How to cook oven-baked Chicken Tikka Masala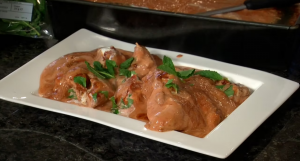 Chicken Tikka Masala
For this home-made Chicken Tikka Masala oven-baked means no additional fat is required. The yogurt adds a rich smooth creamy texture as well as toning down the spicy flavour.
Serves 4
Per serving: 334 Calories, 9.6g fat (excluding rice)
Prep time: 10 mins
Cook Time: 25 mins
---
Ingredients
4 skinless, boned chicken breasts, cut in half
600ml (1 pint) tomato passata
300ml (1⁄2 pint) low-fat live natural yogurt
2 tbsps chopped fresh coriander
freshly ground black pepper
mint leaves to garnish
for the tikka paste
1 small red onion, finely chopped
4 tbsps tomato purée
1 tsp ground cumin
½ tsp ground cinnamon
1 x 2.5cm (1in) piece fresh ginger, grated
2 garlic cloves, crushed
1 small red chilli, deseeded and chopped
juice of 1 lime
2 tsps vegetable bouillon stock powder
---
Method
Preheat the oven to 200°C, 400°F, Gas Mark 6. Cut the chicken in half and place in a bowl and season well with black pepper.
Place the tikka paste ingredients in a food processor and blend until smooth. Spread the tikka mixture over the chicken, coating on all sides. Leave to marinate for 20 minutes.
Transfer to a non-stick roasting tin and place in the oven for 15 minutes until lightly roasted. Remove from the oven and stir in the tomato passata.
Return to the oven for a further 10 minutes to heat through. Check that the chicken is fully cooked.
Just before serving, stir in the yogurt and coriander. Spoon into a warmed serving dish and garnish with mint leaves.
Serve with basmati rice cooked in boiling water with a vegetable stock cube.
As per the Terms and Conditions of your use of our website you may download and print the information for your personal use only.
Recipe © Rosemary Conley Enterprises