How to Cook Carrot & Coriander Soup (ve)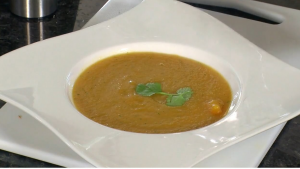 Carrot & Coriander Soup
Carrot & Coriander Soup is an immunity boosting and vitamin rich soup. Ideally, use crisp young carrots which only need topping and tailing and not peeling. This soup benefits from being made the day before and is easy to make. Suitable for freezing.
Serves 6
Per serving: 87 calories, 0.9g fat
Prep time: 10 mins
Cook Time: 30 mins
---
Ingredients
3 medium onions, chopped
1 garlic clove, crushed or ½ teaspoon 'easy garlic'
450g carrots, diced
600ml vegetable stock
1 Knorr vegetable Stock Pot
½ teaspoon ground coriander
2 tablespoons chopped fresh coriander
60ml fresh orange juice
Freshly ground black pepper
Sprigs of coriander to serve
---
Method
Place the onion, garlic and carrots in a large saucepan or in a soup-maker. Add the vegetable stock and the stock pot plus the ground coriander and cook for 25 minutes.
Pour into a liquidiser or pulse in your soup-maker until smooth. Pause and add the fresh coriander and the orange juice and liquidise/pulse again.
When serving, add a sprig of coriander.
As per the Terms and Conditions of your use of our website you may download and print the information for your personal use only.
Recipe © Rosemary Conley Enterprises