How to Prepare a Healthy Lunchtime Tuna Wrap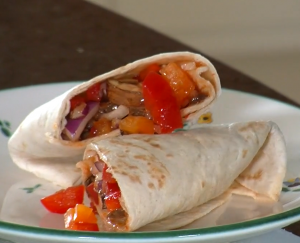 Tuna Wrap
Rosemary demonstrates how to prepare this healthy lunchtime Tuna Wrap.
Serves 1
Per serving: 300 calories, 1g fat approx.
Prep time: 5 mins
Cook Time: None
---
Ingredients
1 tortilla wrap per serving
¼ red onion finely chopped
¼ each of two different coloured peppers, finely chopped
1 mushroom, finely chopped
1 stick celery, finely chopped
Fresh coriander (optional)
1 x teaspoon Chilli and Ginger Dipping Sauce
28g tuna, canned in brine, or sardines in tomato sauce
---
Method
Spread the centre of the tortilla with the dipping sauce.
Sprinkle the finely chopped peppers, onion, mushroom and celery on the sauce in the centre.
Break up the tuna or sardines in a small bowl and place on top of the salad vegetables then top with fresh coriander if you wish.
Now wrap the tortilla edge that's closest to you over the contents, tucking it under the filling, then fold in the sides of the wrap like a parcel before rolling it up into a sausage shape.
Squeeze to secure then cut diagonally in the centre to serve.
As per the Terms and Conditions of your use of our website you may download and print the information for your personal use only.
Recipe © Rosemary Conley Enterprises