How to Cook Cheat's Chilli con Carne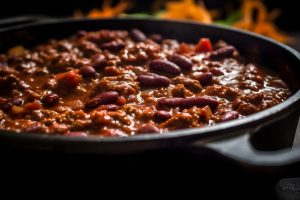 Chilli con Carne
Rosemary demonstrates her quick method of how to prepare Chilli con Carne. This recipe is very simple to make and freezes well. Serve with a salad or with boiled basmati rice.
Serves 4
Per serving: 340 calories, 7g fat (excluding rice)  (545 calories with rice)
Prep time: 10 mins
Cook Time: 30 Mins
---
Ingredients
1 large onion, finely chopped
Rapeseed oil spray
2 heaped teaspoons chilli powder
2 garlic cloves, crushed or a teaspoon of 'easy garlic'
500g 5% fat lean minced beef
1 x 400g can chopped tomatoes
1 x 400g can branded red kidney beans in chilli sauce
2 tablespoons tomato purée
Freshly ground black pepper
---
Method
Heat a large pan and spray with the rapeseed oil.
Add the finely chopped onion and the garlic and cook until soft then add the chilli powder to cook out.
Add the mince and stir well until it changes colour and almost cooked.
Add the canned chopped tomatoes and the can of chilli beans in their sauce into the pan and mix well.
Finally add the tomato puree and a generous amount of fresh ground black pepper and stir into the mixture.
At this stage you can place it in a casserole dish and leave in the fridge for a day or two until required. When needed, place the casserole a moderate oven (180°C/350°F/Gas 4) for 30 minutes or simmer in a pan on top of the stove, stirring regularly to ensure it doesn't burn, and cook for around 15 minutes.
Season to taste and serve with salad or 55g [dry weight] basmati rice (Rice adds 205 calories to the dish.)
As per the Terms and Conditions of your use of our website you may download and print the information for your personal use only.
Recipe © Rosemary Conley Enterprises