How to Prepare a Crunchy Pepper Salad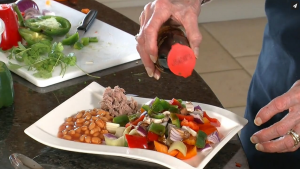 Crunchy Pepper Salad
This Crunchy Pepper Salad is similar to a stir-fry but served with raw vegetables making a substantial and highly nutritious and satisfying lunch.
Serves 1
Per serving: 100 calories, 0.2g fat aprox. (excluding accompaniments)
Prep time: 5 mins
Cook Time: none
---
Ingredients
½ red pepper, coarsely chopped
½ yellow pepper, coarsely chopped
½ green pepper, coarsely chopped
½ red onion, finely chopped
2 sticks of celery, chopped
2 fresh mushrooms, chopped
A few sprigs of fresh coriander
Soy sauce
---
Method
Assemble all the ingredients on a plate and dress with soy sauce or a low-fat dressing of your choice.
Serve with either cold baked beans or your choice of cottage cheese, wafer thin ham, beef or chicken, canned tuna in brine or sardines.
As per the Terms and Conditions of your use of our website you may download and print the information for your personal use only.
Recipe © Rosemary Conley Enterprises