How to Prepare a Crunchy Pepper Salad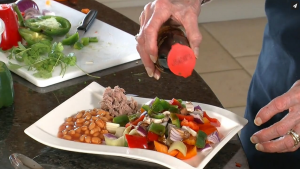 Rosemary demonstrates how to prepare this satisfying lunch.
This is similar to a stir-fry but served with raw vegetables making a substantial and highly nutritious and satisfying lunch.
Serves one
Per serving: 100 calories, 0.2g fat aprox. (excluding accompanyments)
Prep time 5 mins
Cook Time  none
---
Ingredients
½ red peper, coarsely chopped
½ yellow peper, coarsely chopped
½ green peper, coarsely chopped
½ red onion, finely chopped
2 sticks celery chopped
2 fresh mushrooms chopped
A few sprigs of fresh coriander
Soy sauce
---
Method
Assemble all the ingredients on a plate and serve with either cold baked beans, cottage cheese, wafer thin ham, beef or chicken, or canned tuna in brine or sardines. Dress with soy sauce or a low-fat dressing of your choice.