How to Dry-Roast Sweet Potatoes and Parsnips (ve)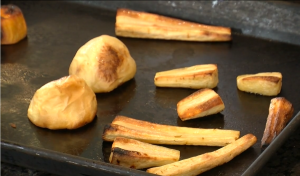 Dry-Roast Sweet Potatoes and Parsnips
By dry roasting potatoes and parsnips you can save lots of fat and unnecessary calories. Rosemary explains why sweet potatoes are particularly delicious dry-roasted. You can dry roast parsnips in exactly the same way.
Quantities given for one serving
Per serving: 85 calories, 1g fat
Prep time: 5 mins
Cook Time: 40 – 50 mins
---
Ingredients
Allow one medium (150g) sweet potato per person. Peel and chop in half, or into quarters if larger.
For parsnips, top and tail and peel each parsnip, cutting off the narrow end to 3 cms. and leave that piece whole. Chop the top half into halves or quarters depending on the size.
---
Method
Place in water with a vegetable stock cube and bring to the boil. Cook for five minutes then remove with a slotted spoon and place on a non-stick baking tray.
Cook without fat at the top of a hot oven for 40 – 50 minutes.
As per the Terms and Conditions of your use of our website you may download and print the information for your personal use only.
Recipe © Rosemary Conley Enterprises