How to cook Chilli Bean Soup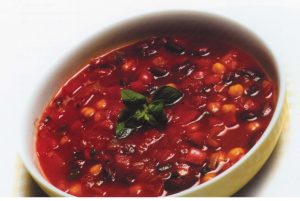 Rosemary demonstrates how to prepare this wholesome hearty soup.
This low-calorie, low-fat and easy-to-prepare wholesome plant-based soup can also be served as a main course with boiled basmati rice.
Serves four
Per serving: 163 calories, 2.7g fat
Prep time 10 mins
Cook Time 25 mins
---
Ingredients
1 red onion, finely chopped
1 small red chilli, sliced
1 x 200g can chickpeas, drained and rinsed
1 x 200g can red kidney beans, drained and rinsed
1 x 400g can chopped tomatoes
600ml vegetable stock (use vegetable stock cube if required)
1 tablespoon tomato puree
2 teaspoons chopped fresh oregano
Salt & freshly ground black pepper to season.
---
Method
Preheat non-stick wok or frying-pan. Dry-dry the red onion and chilli for 4-5 minutes
Transfer to a saucepan and add the remaining ingredients. Simmer gently for 20 minutes. Season to taste with salt and pepper before serving.