How to cook Vegetable Bake (ve)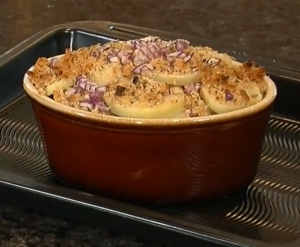 Vegetable Bake
Vegetable Bake is a vegan friendly recipe which is a great way to use up left-over vegetables. Rosemary and her daughter, Dawn, show how to create a recipe that first appeared in The Complete Hip & Thigh Diet book over 30 years ago!
Serves 1
Per serving: Calories and fat content varies according to vegetables used
Prep time: 15 mins
Cook Time: 25 mins
---
Ingredients
Suggested selection of vegetables: (include any leftovers)
large carrot, sliced
large parsnip, chopped
50g peas
100g cabbage, shredded
2 leeks, sliced
1 onion, finely sliced
175g potato, peeled and chopped , cooked but still firm, finely sliced when cold
100g mushrooms, sliced
3 tablespoons packet stuffing mix
1 teaspoon mixed herbs
1 cup of breadcrumbs, preferably wholemeal
250ml vegetable stock
Freshly ground black pepper
---
Method
Lightly cook the vegetables in water with a vegetable stock cube. Strain the vegetables but reserve 250ml of the vegetable stock to be added later.
Place half the chopped vegetables at the bottom of a medium-sized ovenproof dish. Sprinkle with half the stuffing mix, half the mixed herbs and sprinkle with black pepper. Place another layer of cooked vegetables, the remaining stuffing mix, the herbs and with more black pepper. Now place the sliced mushrooms over the last layer followed by the sliced potatoes.
Carefully pour over almost all of the vegetable stock so that it moistens the contents of the dish. Finally, sprinkle over the wholemeal breadcrumbs and carefully pour the remaining stock over. Add freshly ground black pepper.
Bake in a preheated moderate, oven 200°C, 400°F, Gas Mark 6, for 25 minutes until piping hot. Alternatively, cook in a microwave on medium for 7 minutes and place under a hot grill for 5 minutes to crisp the top.
As per the Terms and Conditions of your use of our website you may download and print the information for your personal use only.
Recipe © Rosemary Conley Enterprises