How to cook Stuffed Mushrooms (v)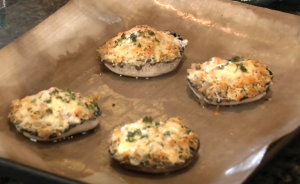 Stuffed Mushrooms
Stuffed Mushrooms are easy to prepare and quick to cook, making a surprisingly filling lunch.
Serves 2
Per serving: 185 calories, 8g fat
Prep time: 5 mins
Cook Time: 8 mins
---
Ingredients
4 very large flat mushrooms, wiped clean
1 slice wholegrain bread, made into breadcrumbs
1 red onion, peeled and very finely chopped
Freshly ground black pepper
40g hard cheese, finely grated
Rapeseed oil spray
---
Method
Preheat the grill to maximum heat but lower the shelf slightly or place in a hot oven. Carefully remove the stalks from the mushrooms. Season with freshly ground black pepper.
Place the mushrooms on their backs and fill the mushrooms with the finely chopped red onion and breadcrumbs. Spray with a little rapeseed oil. Top with the finely grated cheese.
Place the mushrooms on a non-stick baking tray and place under the grill but not too close to the elements to avoid burning, or in a hot oven 200°C, 400°F or Gas Mark 6.
Cook for 7 – 9 minutes to cook through. Serve with a salad.
As per the Terms and Conditions of your use of our website you may download and print the information for your personal use only.
Recipe © Rosemary Conley Enterprises