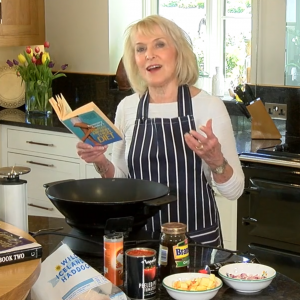 Fish Curry
This Fish Curry recipe first appeared in The Complete Hip & Thigh Diet from 1989. Now Rosemary shows how to cook a slightly updated version.
Serves 2
Prep time: 10 mins
Cook Time: 60 mins
---
Ingredients
2 pieces frozen haddock
400g can tomatoes (chopped or plum)
1 bay leaf
1 large eating apple, cored but not peeled, chopped small
2 heaped teaspoons Branston Pickle
1 heaped teaspoon tomato purée
1 medium onion, finely chopped
2 heaped teaspoons curry powder
55g (dry weight) (one blue Portion Pot®) per person basmati rice
1 vegetable stock cube
---
Method
Place all the ingredients except the fish in a saucepan, Place a lid on the pan and simmer on a low heat for about 40 minutes.
Add the frozen fish pieces to the saucepan and continue cooking for a further 20 minutes on a low heat.
If the mixture is too thin, remove the lid and increase the heat slightly and the sauce will thicken toward the end of cooking. Remove the bay leaf.
Serve with boiled basmati rice cooked in a vegetable stock cube.
As per the Terms and Conditions of your use of our website you may download and print the information for your personal use only.
Recipe © Rosemary Conley Enterprises