How to cook Spicy Butternut Squash Soup (v)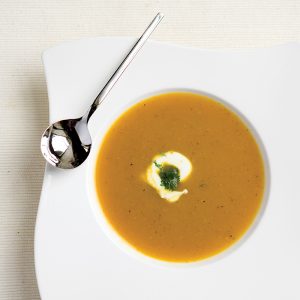 Butternut Squash Soup
Butternut Squash Soup is easy-to-cook and highly nutritious. This spicy, curried version is deliciously smooth with a real kick in the flavour.
Serves 4
Per serving: 77 Calories, 0.5% fat
Prep time: 20 mins
Cook Time: 30 mins
---
Ingredients
1 small butternut squash
115g fresh young carrots, washed and sliced
2 medium onions, chopped
1-2 tsps medium curry powder (eg tandoori mix)
1.2 litres (2 pints) vegetable stock
2 bay leaves (optional)
Freshly ground black pepper, to taste
For serving
1 tbsp 0% fat Greek yogurt or sprinkle with chopped parsley
---
Method
Preheat a large non-stick frying pan and spray with Fry-Light Rapeseed Oil.
Cut the squash in half lengthways and remove the seeds with a spoon and discard. Using a sharp vegetable knife, peel away the thick skin and cut the flesh into chunks.
Place the squash and the other vegetables in the hot pan and dry-fry for 4-5 minutes, until they soften and start to colour.
Stir in the curry powder and cook out for 1 minute keeping the mixture moving to prevent it catching on the bottom of the pan. Add freshly ground black pepper.
If you have a soup-maker, place the semi-cooked vegetables, the bay leaves and the stock all in together and cook for 20 minutes. Alternatively, place all the vegetables in a large saucepan and pour in the vegetable stock, stirring continuously, then add the bay leaves (if using) and bring to the boil. Reduce the heat to a simmer and cook for 20 minutes.
Allow to cool slightly then remove the bay leaves. If using a soup-maker, pulse for 30 seconds, rest and repeat. Alternatively, place mixture in a liquidiser and liquidise until smooth.
Check the seasoning and add more freshly ground black pepper if needed.
Serve with a swirl of Greek yogurt if desired.
As per the Terms and Conditions of your use of our website you may download and print the information for your personal use only.
Recipe © Rosemary Conley Enterprises