How to prepare Rainbow Salad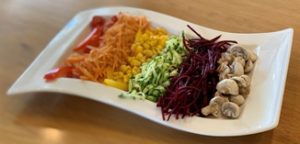 Rosemary demonstrates how to prepare this colourful dish.
This attractive salad brings together a wide variety of colours, flavours and textures to delight any table. Always use very fresh vegetables to enjoy the best flavours. Add your own choice of protein food (see list below) to complete your meal.
Serves one. (multiply ingredients to serve more)
Per serving: 100 Calories (Approx.)
Prep time 20 mins
---
Ingredients
¼ red pepper finely sliced
2 red cherry tomatoes, quartered
1 carrot peeled and finely grated
2 tablespoons canned sweetcorn
¼ yellow pepper finely sliced
1 small courgette coarsely grated including skin
Fresh garden peas from three pods
½ in slice cucumber, chopped
1 medium raw beetroot, peeled and finely grated
5 button mushrooms, chopped
---
Method
Place the prepared salad vegetables carefully in lines down a rectangular plate to create a rainbow effect. Keep similar coloured vegetables together.
Serve with soy sauce.
Optional: Add prawns, tuna or smoked mackerel; or cottage cheese or a hard-boiled egg; or chopped chicken or lean ham or beef; or quinoa or other grains. (The calories for these protein foods are not included)