How to prepare Mediterranean Prawn Salad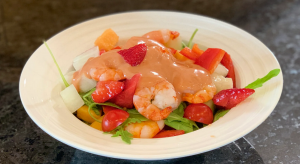 Mediterranean Prawn Salad
Mediterranean Prawn Salad combines fruit and salad vegetables to create an unusual but sensational twist for summer eating.
Serves 2
Per serving: 315 Calories, 5.4g fat
Prep time 20 mins
---
Ingredients
For the sauce:
2 tbsps Heinz Salad Dressing
2 tbsps Tomato Ketchup
2 tbsp 0% fat Live yogurt
For the salad:
Selection of small salad leaves
200g large cooked shelled prawns
1 mango, peeled and chopped
10 cherry tomatoes, halved
2cm piece cucumber, chopped into small cubes
6 Spring onions, peeled and chopped finely
2 sticks celery, chopped
¼ red pepper, chopped
¼ yellow pepper, chopped
1 wedge of each melon from a selection of varieties according to availability, eg Watermelon, Honeydew, Cantaloupe, Galia, then chop into bite-size cubes.
10 strawberries, hulled and quartered
---
Method
Make up the sauce by mixing the salad dressing, ketchup and live yogurt together in a bowl.
For each person, place a few salad leaves at the base of a large bowl. Add a few halved cherry tomatoes, chopped cucumber, sliced onions, peppers and celery then add a layer of half the chopped mixed melon pieces, half the mango pieces and half the chopped strawberries. Then place a few prawns in the centre and drizzle over a quarter of the dressing.
Repeat the process with the remaining ingredients and finally with the prawns then drizzle the dressing on top.
Serve immediately.
As per the Terms and Conditions of your use of our website you may download and print the information for your personal use only.
Recipe © Rosemary Conley Enterprises