How to prepare Mixed Bean Salad (ve)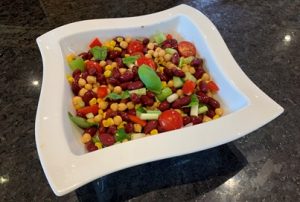 Mixed Bean Salad
Mixed Bean Salad is an easy-to-prepare, plant-based salad that will impress your family or guests with its array of colours. It is a dish that comprises lots of low Gi foods and immunity-boosting fibre that is bursting with flavour with the added bonus that it will keep you feeling full for longer.
Serves 4
Per serving: 450 Calories (approx.)
Prep time: 5 mins
---
Ingredients
For the salad:
1 x 400g can Chickpeas, drained and rinsed
1 x 400g can Red Kidney Beans, drained and rinsed
½ x can Sweetcorn, drained but reserve the juice for the dressing
½ red pepper
6 cherry tomatoes, halved
6 Spring onions, chopped
4 sticks of celery, chopped
Pieces of cucumber chopped into small pieces
Freshly ground black pepper
Fresh Basil leaves, torn or chopped
For the dressing:
The juice from the tin of sweetcorn
Balsamic vinegar
---
Method
Place all the ingredients into a large bowl and mix together.
Make a dressing by mixing the juice from the tin of sweetcorn with Balsamic vinegar
Serve chilled.
As per the Terms and Conditions of your use of our website you may download and print the information for your personal use only.
Recipe © Rosemary Conley Enterprises