How to prepare Healthy Home-made Coleslaw (v)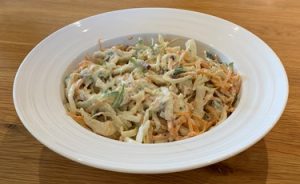 Home-made Coleslaw
Home-made coleslaw can be so much more nutritious than ready-made varieties. Here, Rosemary shows how to make a quick and delicious version that is lower in fat.
Serves 6
Per serving: 54 Calories (approx.)
Prep time 5 mins
---
Ingredients
1 x large carrot peeled and grated
1 x red onion, peeled and chopped small
¼ x white cabbage, shredded
1 x courgette, grated
For the dressing:
2 tablespoons Heinz Salad Cream
200g 0% fat live yogurt
Freshly ground black pepper – to taste
---
Method
Mix the salad cream and the live yogurt in a small mixing bowl.
Place the grated carrot, courgette, chopped onion and shredded cabbage in a large bowl and mix well.
Add freshly ground black pepper
Finally, stir in the dressing and mix thoroughly. Keep refrigerated and use within two days.
As per the Terms and Conditions of your use of our website you may download and print the information for your personal use only.
Recipe © Rosemary Conley Enterprises