How to prepare Coronation Chicken Salad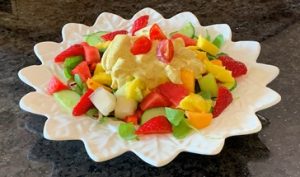 Rosemary demonstrates how to make Coronation Chicken Salad.
This tasty salad is perfect when you have some left-over chicken and want to create a salad with a difference. The easy-to-make lightly curried sauce to dress the chicken works wonderfully with a healthy combination of summer fruits and fresh salad to create an impressive and generous meal.
Serves one  (Multiply ingredients for more servings)
Per serving: 300 Calories (approx.)
Prep time 10 mins
---
Ingredients
Coronation Chicken:
60g cooked chicken, (no skin) chopped
1 tablespoon Heinz Salad Dressing
1 tablespoon 0% fat Live Natural Yogurt
½ teaspoon curry powder.
For the Salad:
Salad leaves
3 x chopped cherry tomatoes
2cm chopped cucumber
I x small stick celery chopped
¼ red pepper, chopped
¼ x yellow pepper, chopped
1 x wedge each of different melons (eg Honeydew, Galia, Cantaloupe, Watermelon), chopped into chunks
½ fresh mango or papaya, skinned and chopped
4 x strawberries, hulled and quartered
---
Method
Make up the Coronation dressing by mixing together the salad dressing and live natural yogurt. Then stir in the curry powder and mix well. Set aside.
Place a selection of salad leaves on a serving plate then top with the chopped salad vegetables, (retaining the tomatoes till the end). Then arrange the pieces of fruit on top of that.
Finally place the coronation chicken mixture on top and decorate with the halved cherry tomatoes.
Keep chilled before serving.