How to prepare Healthy Potato Salad (v)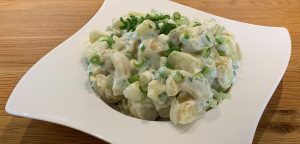 Potato Salad
This delicious and nutritious potato salad combines fresh new potatoes with spring onions, chives and a lower-fat easy-to-make dressing. Perfect for a barbecue or to accompany any salad.
Serves 4
Per serving: 150- 200 Calories (approx. depending on portion size)
Prep time: 5 mins
Cook time: 20 mins
---
Ingredients
500g new potatoes, chopped
1 vegetable stock cube
1 bunch spring onions, chopped small
Chives, chopped
3 tablespoons Heinz salad cream
300g x 0% live natural yogurt
Finely ground black pepper
A few spring onions and chives to chop for garnish
---
Method
Boil the potatoes with a vegetable stock cube and allow to cool.
Mix the salad cream with the 0% fat live plain yogurt. Add the freshly ground black pepper.
Stir in the chopped spring onions and the chives, (reserving some for the garnish), and mix well.
Chop the cold, cooked new potatoes into bite-size pieces and carefully stir into the dressing mixture.
Transfer to a serving dish and sprinkle with the reserved chopped spring onions and chives.
Keep refrigerated until ready to serve.
As per the Terms and Conditions of your use of our website you may download and print the information for your personal use only.
Recipe © Rosemary Conley Enterprises