How to prepare Mackerel Pâté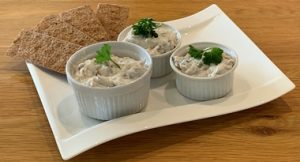 Mackerel Pâté
This quick and easy Mackerel Pâté is really delicious and ideal to serve with crispbreads or on a jacket potato as a lunch or as a starter for a dinner party.
Serves 4
Per serving: 185 Calories
Prep time 5 mins
---
Ingredients
1 pack of two fillets of boneless smoked mackerel
250g 0% fat live plain yogurt
3 heaped teaspoons horseradish sauce
---
Method
Remove the skin from the smoked mackerel fillets and break into pieces into a mixing bowl
Add the live plain yogurt and the horseradish sauce and stir well until the fish is well-mixed and the pâté is smooth.
Place the pâté in individual ramekin dishes and chill until served.
As per the Terms and Conditions of your use of our website you may download and print the information for your personal use only.
Recipe © Rosemary Conley Enterprises