How to bake Kim's Cake (v)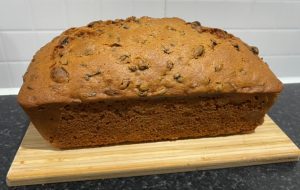 Kim's Cake
Kim's Cake is a recipe from the archive. Originally given to Rosemary by Kim, one of her class members of over 30 years ago, it is a super-low-fat cake that is easy to make and utterly delicious. Here, Rosemary and her daughter Dawn demonstrate how to make the recipe. But beware! It is quite high in sugar and very tempting!
Makes 8 – 10 slices, then cut into fingers to serve.
Serving size 1cm/½ inch slice
---
Ingredients
2 mugs of mixed dried fruit
1 mug of hot black tea
1 mug soft brown sugar
2 mugs self-raising flour
1 large egg, beaten
(In the video Rosemary and Dawn use a 300ml mug but if you use a smaller mug the quantities will still work proportionately)
---
Method
Soak the dried fruit overnight in a bowl with a mug of hot black tea to allow the fruit to swell.
Place all the ingredients together in a large mixing bowl, including the fruit and tea, and mix well.
Line a 2lb loaf tin and bake for 1½ hours at 160 degrees C, 325 F or Gas Mark 3. Then check to see if the cake is cooked through by piercing the centre with a skewer. If it comes out clean it is cooked. If not, place back in the oven for up to a further 30 minutes.
As per the Terms and Conditions of your use of our website you may download and print the information for your personal use only.
Recipe © Rosemary Conley Enterprises