How to cook Rich Red Lentil Soup (v)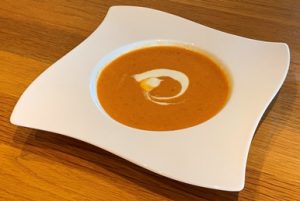 Rich Red Lentil Soup
Rich Red Lentil Soup is a really easy cook-in-the-pan tasty soup which is high in fibre and utterly delicious. You can make it in advance and keep it in the refrigerator for up to 5 days. Suitable for freezing prior to adding the yogurt.
Serves 4
Per serving: 254 Calories, 1.3g fat
Prep time 20 mins
Cook Time 25 mins
---
Ingredients
1 onion, chopped
1 garlic clove, crushed
2 stalks celery, chopped
2 carrots, chopped
2 teaspoons chopped fresh thyme
1 teaspoon ground cumin
175g dried red lentils
1 litre vegetable stock (use two vegetable stock pots or cubes)
1 x 400g tin of chopped tomatoes
freshly ground black pepper
2 tablespoons live yogurt
---
Method
Spray a large non-stick saucepan or frying pan with rapeseed oil spray and dry-fry the onion until soft.
Add the remaining ingredients except the yogurt and bring to the boil. Reduce the heat and simmer gently for 20 minutes until the lentils are soft.
Allow to cool slightly then blend with a stick blender or purée in a food processor. Thin the soup down with a little extra vegetable stock or water if necessary.
Reheat in a saucepan as required. Just before serving, remove from the heat, stir in the yogurt and season to taste with black pepper.
Serve immediately.
If intending to freeze do so prior to adding the yogurt.
As per the Terms and Conditions of your use of our website you may download and print the information for your personal use only.
Recipe © Rosemary Conley Enterprises