How to cook Spicy Fat-Free Mincemeat (ve)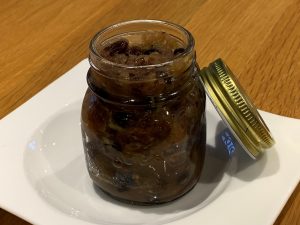 Spicy Fat-Free Mincemeat
Spicy Fat-Free Mincemeat is an easy-to-make healthy alternative to regular mincemeat and is deliciously light. By comparison, an average 1lb jar of shop-bought mincemeat contains 1,300 calories and 50g fat!
Makes 450g (1lb)
Per 450g (1lb): 775 Calories, 1.1g fat.
Prep time 5 mins
Cook Time 25 mins
---
Ingredients
150g (5oz) cooking apples, grated
225g (8oz) mixed dried fruit
1⁄2 tsp mixed spice
150ml (1⁄4 pint) sweet cider
2 tbsps brandy, whisky or rum
---
Method
Place the grated apples and the dried fruit in a saucepan. Add the mixed spice and cider. Simmer for about 20 minutes or until the mixture forms a pulp and most of the liquid has evaporated.
 Stir in your choice of spirit. Allow to cool.
When cool, pack the mincemeat in sterilised jars and store in the refrigerator until required. The mincemeat will keep in a refrigerator for 4 months. Once opened, use within one week.
As per the Terms and Conditions of your use of our website you may download and print the information for your personal use only.
Recipe © Rosemary Conley Enterprises