How to make Luxury Low-Fat Sherry Trifle (v)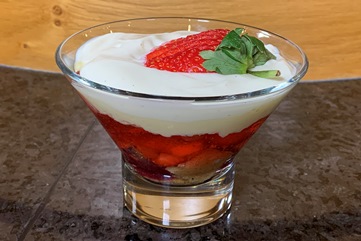 Low-Fat Sherry Trifle
Low-Fat Sherry Trifle offers a delicious twist to a conventional trifle, making it ideal for a special occasion whilst still healthy and low in fat.
Serves 4
Per serving 265 kcal/3.6g fat
Preparation time: 10 minutes
Setting time: 1 hour
---
Ingredients
4 fat-free trifle fingers
2 tbsps sweet sherry
4 tsps fruit compote
200g (7oz) fresh strawberries, sliced
1 packet strawberry jelly
1 x 75g packet instant low-fat custard
4 small pots low-fat vanilla-flavoured live yogurt
extra strawberries to decorate
---
Method
Make up the jelly as per the packet instructions and allow to almost set.
Break the trifle sponges into 4 individual trifle dishes, drizzle with sherry and add a teaspoon of fruit compote before covering with sliced strawberries.
When the jelly is almost set whisk with a fork then pour over the strawberries in the dishes, then slice more strawberries on top of the jelly.
Meanwhile, make up the instant custard using boiling water and allow to cool before pouring it onto the second layer of sliced strawberries. Place in the refrigerator.
When completely chilled, cover with the vanilla-flavoured yogurt.
Decorate with fresh strawberries and serve.
As per the Terms and Conditions of your use of our website you may download and print the information for your personal use only.
Recipe © Rosemary Conley Enterprises