How to cook Curried Parsnip Soup (v)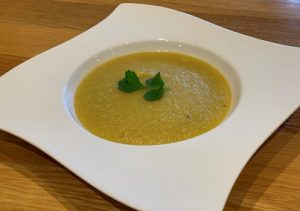 Curried Parsnip Soup
Curried Parsnip Soup combines fresh parsnips and a touch of curry powder. This full-of-goodness delicious soup will warm you up on a cold winter's day. Ideal as a lunch or as a starter. Suitable for freezing.
Serves 4
Per serving: 130 Calories, 0.3g fat
Prep time 10 mins
Cook Time 20 mins
---
Ingredients
400g fresh parsnips, peeled and chopped quite small
600ml chicken (or vegetable) stock plus a vegetable stock pot.
3 medium onions, peeled and chopped
1 tsp medium curry powder
Rapeseed oil spray
Freshly ground black pepper
---
Method
Heat a non-stick frying pan and spray with rapeseed oil. When hot, add the chopped onions.
When the onion is cooked through, sprinkle over the teaspoon of medium curry powder and cookout for about two minutes.
Add the chopped parsnips, stock, and stockpot to your soup maker or add to the pan of onions once they are cooked. Add freshly ground black pepper.
Boil until the parsnips are cooked through then liquidise until smooth, adding more stock if too thick.
Serve in heated dishes with either a drop of yoghurt or garnish with a sprig of fresh coriander.
Cook's tip: For the best flavour use young fresh parsnips if possible.
As per the Terms and Conditions of your use of our website you may download and print the information for your personal use only.
Recipe © Rosemary Conley Enterprises