How to cook Easy Tomato and Roasted Garlic Soup (ve)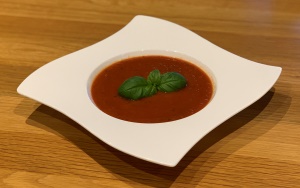 Tomato and Roasted Garlic Soup
Tomato and Roasted Garlic Soup combines strong tomato but gentle garlic flavours. It also works well as a pasta sauce.
Serves four
Per serving: 70 Calories, 0.7g fat
Prep time 10 mins (assuming garlic roasted in advance)
Cook Time 10 mins
---
Ingredients
1 whole head of garlic
3 x 400g can plum tomatoes
6 spring onions, finely chopped
1 vegetable stock pot
1 tablespoon chopped fresh basil
Freshly ground black pepper
---
Method
How to roast the garlic:
Preheat the oven to 200°C, 400°F, Gas Mark 6.
Remove the outer skin from the garlic bulb and slice the top off. Place on a square of foil and wrap the foil around to form a parcel. Place in the oven for 45 minutes until soft. Set aside to cool.
How to make the soup:
Pour the cans of tomatoes into a soup maker or saucepan.
Squeeze out the garlic puree from the roasted bulb and add to the tomato mixture along with the chopped spring onions, the stock pot and the freshly ground black pepper.
Bring to the boil then cook for 5 minutes.
Liquidise until smooth then add the fresh basil leaves and liquidise again.
If you wish, you can push the mixture through a sieve to remove the seeds but if you liquidise it well, you may not need to do this.
Season with additional freshly ground black pepper to taste.
As per the Terms and Conditions of your use of our website you may download and print the information for your personal use only.
Recipe © Rosemary Conley Enterprises