How to cook Healthy Home-Made Beefburgers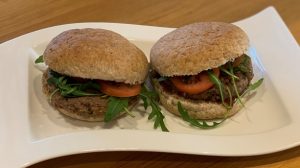 Home made Beefburgers
Home made Beefburgers are a very tasty but super-healthy alternative to regular shop-bought options which are significantly less nutritious. Ideal for barbecues and perfect for the whole family. Suitable for freezing
Serves 2
Per serving: 372 Calories, 5.5g fat
Prep time: 10 mins
Cook Time: 6 mins
---
Ingredients
200g lean minced beef (max 5% fat)
½ red onion, finely chopped
½ carrot, finely grated
1 tablespoon chopped fresh chives
½ beef stock cube, crumbled
For serving:
2 wholemeal baps
1 tablespoon tomato ketchup or brown sauce
Rocket leaves
1 tomato, sliced
---
Method
Put the minced beef in a food processor to blitz until smooth.
Now add the finely chopped onion, chives, grated carrot and crumbled beef stock cube in the processor and blitz to combine all the ingredients.
Divide the mixture into two ball shapes and use your hands to press down to form two burger shapes. Press them until quite thin and wide as they will shrink and fatten up as they cook.
Dry fry the burgers in a hot non-stick frying pan or barbecue, turning regularly, for 5 – 6 minutes, ensuring they are cooked through.
To assemble the burgers spread each bap with the sauce of your choice, add the burger and top with some rocket leaves and slices of tomato.
As per the Terms and Conditions of your use of our website you may download and print the information for your personal use only.
Recipe © Rosemary Conley Enterprises