How to cook Fresh Salmon Pasta Salad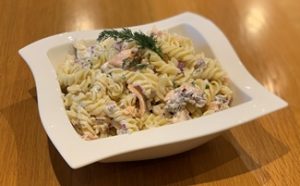 Salmon Pasta Salad
Salmon Pasta Salad is a cold pasta salad with flakes of pink salmon. It is super-nutritious and ideal for packed lunches or for an easy to prepare lunch for all the family. If fresh salmon is unavailable, canned salmon is a good substitute.
Serves 6
Per serving: 280 Calories, 8.9g fat
Prep time 10 mins
Cook Time 25 mins
---
Ingredients
2 vegetable stock cubes
2 x 175g (2 x 6oz) fresh salmon fillets
225g or 2 x Green Portion Pots® of pasta shapes
300ml (1⁄2 pint) virtually fat-free live Greek yogurt
juice of half a lemon
1 small red onion, finely chopped
1 tbsp chopped fresh chives
pinch of sweet paprika
fresh dill to garnish
---
Method
Crumble 1 stock cube in a saucepan and add a little water. Add the salmon and poach for 8 – 10 minutes over a low heat. Lift the salmon from the pan and allow to cool. Alternatively, crush the vegetable stock cube over the salmon fillets and cook the fillets in a microwave for 3½ minutes on 'high' then allow to cool.
Cook the pasta in a large saucepan of boiling water with the remaining vegetable stock cube. Drain the pasta thoroughly and rinse with cold water then transfer to a large bowl. Allow to cool. Add the Greek yogurt, lemon juice, chopped onion, chives and paprika.
Carefully flake the salmon into the bowl, removing any bones and skin. Combine all the ingredients with a large metal spoon, taking care not to over-mix and break up the fish too much. Spoon into a serving dish and chill until required. Garnish with fresh dill.
As per the Terms and Conditions of your use of our website you may download and print the information for your personal use only.
Recipe © Rosemary Conley Enterprises