How to prepare Rice and Bean Salad (ve)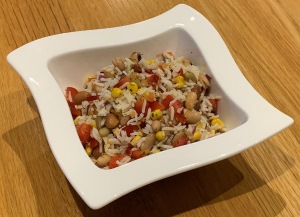 Rice and Bean Salad
Rice and Bean Salad is a great way of using up leftover rice and turning it into a highly nutritious quick-to-prepare vegan lunch. Perfect for anyone whether or not you regularly follow a plant-based diet.
Serves 2
Per serving: 340 Calories, 2.1g fat
Prep time 10 mins
---
Ingredients
1 Green Portion Pot® cooked Basmati rice (90g uncooked weight boiled in water with a vegetable stock cube)
½ red onion finely chopped
1 red pepper finely chopped
200g mixed beans, rinsed and drained
½ grated carrot
100g canned sweetcorn including the juice
1 tsp dried coriander leaf
Freshly ground black pepper
---
Method
Mix all the ingredients together in a large bowl and store in a refrigerator. Eat the same day.
As per the Terms and Conditions of your use of our website you may download and print the information for your personal use only.
Recipe © Rosemary Conley Enterprises