How to prepare Diana's Sweet Potato Salad (ve)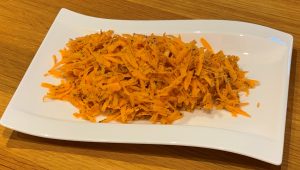 Rosemary demonstrates how to make this surprising salad.
This recipe was sent in by one of our Newsletter readers, Diana, who wrote: "I must admit I was dubious at first but was very pleasantly surprised at the result. It really is absolutely delicious.' And we agree!
 Made with grated raw sweet potato, this simple salad offers a perfect addition to an array of salads that we might serve for a barbecue or buffet.
Serves 2
Calories depend on the size of the sweet potato.
Raw sweet potatoes contain 86 calories per 100g.
Prep time: 5 mins
---
Ingredients
1 or 2 sweet potatoes, peeled
1 tsp white wine vinegar
A pinch of salt
A pinch of sugar
A good sprinkling of dried coriander leaf
---
Method
Coarsely grate the sweet potato and place in a bowl.
Add the white wine vinegar, salt and sugar and mix well.
Finally, add the dried coriander leaf and mix well.
Keep chilled until served.