How to prepare Diana's Sweet Potato Salad (ve)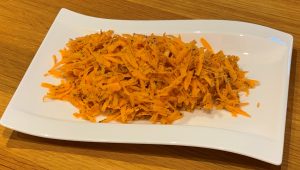 Diana's Sweet Potato Salad
Made with grated raw sweet potato, Diana's Sweet Potato Salad offers a perfect addition to an array of salads that we might serve for a barbecue or buffet.
This recipe was sent in by one of our Newsletter readers, Diana, who wrote: "I must admit I was dubious at first but was very pleasantly surprised at the result. It really is absolutely delicious.' And we agree!
Serves 2
Calories depend on the size of the sweet potato.
Raw sweet potatoes contain 86 calories per 100g.
Prep time: 5 mins
---
Ingredients
1 or 2 sweet potatoes, peeled
1 tsp white wine vinegar
A pinch of salt
A pinch of sugar
A good sprinkling of dried coriander leaf
---
Method
Coarsely grate the sweet potato and place in a bowl.
Add the white wine vinegar, salt and sugar and mix well.
Finally, add the dried coriander leaf and mix well.
Keep chilled until served.
As per the Terms and Conditions of your use of our website you may download and print the information for your personal use only.
Recipe © Rosemary Conley Enterprises