How to cook Banana and Sultana Cake (ve)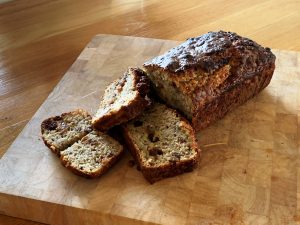 Banana and Sultana Cake
Banana and Sultana Cake is a firm favourite from my archive of diet books. This one is from my Flat Stomach Plan, published in 1994. So easy to make and made without adding any fat. Ripe bananas can often be purchased cheaply and it is a great way to use up bananas that are getting a bit too ripe. Suitable for freezing
Serves 10 slices
Per serving: 210 Calories, 1.5g fat
Prep time 10 mins
Cook Time 60 – 90 mins
---
Ingredients
475g ripe bananas (5 large), peeled
2 eggs, beaten
150g demerara sugar
100g sultanas
200g self-raising flour
---
Method
Preheat the oven to 180°C or 350°F or Gas Mark 4.
Mash the bananas in a mixing bowl. Stir in the eggs, sugar and sultanas then mix in the flour.
Place in a lined 2lb/800g loaf tin or cake tin and bake for 1 – 1½ hours. (Check it after 1 hour to see if it is cooked by inserting a skewer in the centre of the cake. If it comes out clean the cake is cooked.)
For best results, store for 24 hours before serving.
As per the Terms and Conditions of your use of our website you may download and print the information for your personal use only.
Recipe © Rosemary Conley Enterprises