How to cook Sweet Potato and Ginger Soup (ve)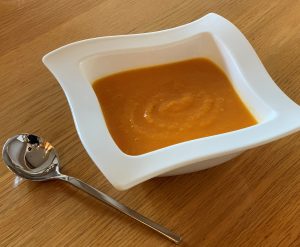 Sweet Potato and Ginger Soup
Sweet Potato and Ginger Soup is a highly nutritious soup that combines the flavours of sweet potatoes and fresh ginger to warm you up on any chilly day. Because sweet potatoes have a low glycaemic index rating, this soup will keep you feeling fuller for even longer. Ideal for a lunch or as a starter if entertaining. Suitable for freezing
Serves 4
Per serving: 187 calories, 1g fat
Prep time 10 mins
Cook Time 30 mins
---
Ingredients
1 very large or 2 medium sweet potatoes, peeled and chopped
2 large carrots, well washed (or peeled if necessary), chopped
1 large or 2 medium onions, peeled and chopped
5cm or 2in piece of ginger root, peeled or 1 tablespoon Easy Ginger, drained.
500ml vegetable stock using leftover water from cooking vegetables
1 vegetable stock pot.
Rapeseed oil Frylight spray
Freshly ground black pepper
---
Method
Take a large pan and spray with Frylight rapeseed oil and dry-fry the chopped onion until soft.
Add the stock, the vegetable stock pot and the chopped sweet potatoes and carrots and bring to the boil. Simmer for 20 minutes.
Peel the ginger root if using and grate, or chop in a food processor. When the vegetables are half cooked, add the ginger to the pan and season well with freshly ground black pepper.
When the vegetables are cooked, place in a liquidiser and process until smooth. If too thick, add more stock.
Serve immediately in warmed bowls.
If using a soup-maker, allow enough time for the vegetables to cook thoroughly before liquidising.
As per the Terms and Conditions of your use of our website you may download and print the information for your personal use only.
Recipe © Rosemary Conley Enterprises