How to cook Baked Bean and Vegetable Bake (v)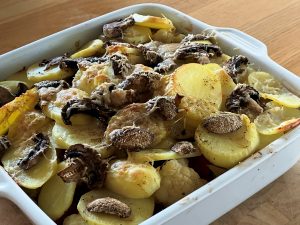 Baked Bean and Vegetable Bake
Baked Bean and Vegetable Bake is a vintage vegetarian recipe that first appeared in my Whole Body Programme book back in the '90s! It is highly nutritious and suitable for anyone who follows a plant based diet if you substitute the parmesan cheese.
Serves 4
Per serving: 413 Calories, 1.5g Fat
Prep time: 20 minutes
Cook time: 60 minutes
---
Ingredients
200g carrots
400g white cabbage
1 small cauliflower
1 large onion
200g mushrooms
600g potatoes
415g can baked beans
400g tinned chopped tomatoes
1 tablespoon mixed herbs
Freshly ground black pepper
1 tablespoon grated parmesan cheese
---
Method
Prepare the vegetables: Peel and dice the carrots. Shred the cabbage and trim and chop the cauliflower. Peel and slice the onion. Slice the mushrooms and either peel or scrub the potatoes and cut into slices.
Boil the carrots and cauliflower in a pan with a vegetable stock cube for five minutes then remove from the water and place to one side. Retain the water and add the onion and cabbage and boil in the same pan for five minutes.
In another pan, boil the potatoes for 15 minutes.
Place the carrots, half the mushrooms and all the beans into a large casserole or lasagne dish.
Place the drained onion and shredded cabbage on top, followed by the chopped tomatoes and herbs. Add plenty of freshly ground black pepper.
Cover with the cauliflower and the sliced potatoes. Place the remaining mushrooms on top of the sliced potatoes. Sprinkle on the Parmesan cheese and more freshly ground black pepper.
Place in a preheated oven at 150°C, 300°F or Gas Mark 2 for 30 minutes or until the vegetables are cooked.
Serve immediately.
As per the Terms and Conditions of your use of our website you may download and print the information for your personal use only.
Recipe © Rosemary Conley Enterprises